I've Got A Secret 2005 Info
Wednesday, November 30, 2005
Craigslist posted another update for I've Got A Secret. They are looking for Candid footage of a celebrity that you might have. Also, I think a payout of $1,500 is what the show will be offering. So want $1,500? Follow this link.
posted by Alex Davis * Permalink

The Worst UK Game Show Answers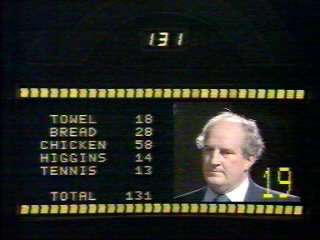 They say Americans aren't too bright. But stupidity isn't as American as Apple Pie. The Sun Online has a good compilation of stupid people saying stupid things all while other people watch/listen. My personal favorite on this list? The very last one, featured on Daryl's Drivetime on Virgin Radio.

Daryl Denham: In which country would you spend shekels?
Contestant: Holland?
Denham: Try the next letter of the alphabet.
Contestant: Iceland? Ireland?
Denham (helpfully): It's a bad [telephone connection]. Did you say Israel?
Contestant: No.


The Sun Online
posted by Cory Anotado * Permalink

Pat Sajak Launches Game
Pat Sajak, known for being the host of Wheel of Fortune for decades, announced the launch of his website PatSajak.com and hios own game, Pat Sajak's Lucky Letters. "I'm proud and excited to be partnered with the outstanding people of uclick. With their knowledge of the online and mobile markets and our knowledge of word games, PatSajakGames.com promises to grow into the preeminent site for fun and challenging wordplay." Sajak stated. Lucky Letters is the host, where players spin a slot machine to guess the lucky letters and win big. Lucky chances may double the player's money, but watch out for the Lightning Round. There is a single and multiplayer version. Go to PatSajakGames.com to get your game on.

Source: PRWeb
posted by Alex Davis * Permalink

The Donald: Part 6
Apparently the unemployment rate in the USA is extremely high, because this show isn't going anywhere. According to The Daily Buzz and iWon news, The Apprentice, Donald Trump's way to whore himself into the competition television industry, will be coming back for a sixth season. Even more, the show will move to the West Coast.

"Donald has so many recent West Coast projects, that it made perfect sense to change locations," stated Mark Burnett. This show, in my opinion easily 2nd best (Behind The Amazing Race) in the competition genre, does not have a date as to when it will be back as of now. Please remember that Martha Stewart's is cancelled, too.



posted by Alex Davis * Permalink

GREAT online game show website
Tuesday, November 29, 2005
I found an excellent website with variations of such game shows as 21, Weakest Link, Card Sharks, and more. The website is Joytube. Check out the entire site, there's a lot of great games. Hope you enjoy! (Yes, another slow news day)
posted by Alex Davis * Permalink

TV Land lists 8 game show moments in their top 100 list
In TV Land's upcoming miniseries special,

The 100 Most Unexpected TV Moments

, eight game show moments pull rankings. The top moment is the infamous

Price is Right

tube top incident, featuring Yolanda Bowsley, ranking in at 19. Other moments include Michael Skupin's burning on

Survivor

(23), Jack Benny's "miser" clue on

Password

(50), and Jackie Gleason's plea for forgiveness after the disaster that was

You're in the Picture

(96). The top five moments include the

Newhart

finale, Mike Tyson's midgame cannibalism, the revival of Patrick Duffy on

Dallas

, Janet Jackson's wardrobe malfunction, and the

Smothers Brothers

Who explosion.

You can read the full list in the December 5th edition of TV Guide, or watch the list a la

I Love the 80's

on TV Land, from the 5th through the 9th, one hour each night at 10pm ET.
posted by Michael Stanton * Permalink

GSN Wants Your Secrets
Monday, November 28, 2005
GSN is looking for contestants for their revival of the classic game show, I've Got a Secret. They request anyone with a weird connection to a current hot celebrity, an interesting world record, dangerous hobby, or a strange ability. Visit the LA Craigslist post for more details.
posted by Michael Stanton * Permalink

International Game Show Website:
It's a slow news day, so I thought I'd post this. I found a very interesting little international game show website:

http://www.gameshow-kult.de/

I believe these are German game shows. They have some very well known ones also, like Wheel of Fortune, Jeopardy, Lingo, and Deal or No Deal. Check it out, great site.
posted by Alex Davis * Permalink

GSN Plans Pat Morita Tribute
Well this one came out of left field. GSN will do a 5 day afternoon Match Game tribute to the late Pat Morita on December 5th through the 9th at 3:30PM ET/PT. Pat Morita was known for Mr. Miyagi on Karate Kid and his role as Arnold, the restaurant owner on Happy Days. These are the episodes that will aired.

December 5th- Ep 0761
December 6th- Ep 0762
December 7th- Ep 0763
December 8th- Ep 0764
December 9th- Ep 0765



Source: GSN
posted by Alex Davis * Permalink

Bye Bye Rafferty Blockbusters
Man, GSN must really be listening to their fans. Starting today, Rafferty Blockbusters, which is a terrific show (in my opinion better than Cullen Blockbusters) is off and replaced with the Cullen version. It would be nice to get H2 somewhere, like in that slot.....
posted by Alex Davis * Permalink

Could Wheel of Fortune Change More?
Sunday, November 27, 2005
We hope you guys had a happy holidays. We are now back will updates on a (hopefully) daily basis. [Ed. Note: Speak for yourself, Alex. :-D]

There is talk of the wheel becoming a video display and not cardboard. This would be to speed up the process of changing the wheel layout between rounds, because that whole 3 or 4 minutes really kills them. This would make spaces like Mystery Space easy to change back to whatever dollar value it is as well, as if it was hard in the first place. Apparently there are plans of having a video play as the wheel spins also. Will this come into fruitation? Who knows?

[More Ed. Note: As stated in the comments, that is rather generous, Alex. It took 2 minutes TOPS to change all that stuff. Honestly, I think it's a stupid idea, but hey, I'm just a former contestant. What do I know?]
posted by Alex Davis * Permalink

New York Defeats Philadelphia In Extreme Dodgeball Finals
Wednesday, November 23, 2005
The, in my opinion, best season of Extreme Dodgeball ended last night as the New York Bling defeated the Philadelphia Benjamins 57-37 to win the 3rd Extreme Dodgeball title. Celebrity captain of the New York Blink Mia St. John stated "I'm so excited. We knocked their asses out!" which is true if you saw the broadcast on Tuesday evening. Extreme Dodgeball commish Rip Torn presented the Bling with their trophy. The New York Bling collected over $50,000 throughout the season and are the first champions of the scoring/time system of Extreme Dodgeball. Their record was 8-2 in the regular season.
posted by Alex Davis * Permalink

The Brits Want To Deal Some More
Tuesday, November 22, 2005
Deal or No Deal, Channel 4's hit afternoon game show, is coming back. It was recently announced that they recommissioned the show for a second series. Taping will begin in January. The show has been peaking with over 3,000,000 people watching. Visit Bother's Bar for more Deal or No Deal info.
posted by Alex Davis * Permalink

MAJOR GSN SCHEDULE CHANGE
As we reported, GSN is going back to game shows. They apparently weren't lying. GSN is doing what they need to to save their schedule. Monday's repeat of The Amazing Race is gone, finding a home on the schedule and cutting back on rerun abuse Wednesday through Sunday at 9PM ET. I think game show fans are going to orgasm over the next few things. Press Your Luck will replace The Newlywed Game at 12:30PM ET/PT on the Men of GSN lineup. Whammy will move back a half hour to 11:30AM ET/PT on weekends. This one excites me....

GSN picked up George Gray Weakest Link! No more Anne finally! The syndicated Weakest Link which will take at least a year to reach rerun abuse will air in a back to back block at 4-5PM ET/PT.

Thanks to Steve Beverly of TVGameshows.net for the article. These schedule changes happen at 1/2/06, with The Amazing Race leaving on 1/9/06. Also, Anything to Win, GSN's much belated documentary series, begins January 10th at 9PM ET/PT with a 2 hour premiere.

Update: We have more schedule news. Match Game will air in the 11-midnight block on weekdays under the title "That '70s Hour".
posted by Alex Davis * Permalink

LINGO BACK FOR SERIES 5
Monday, November 21, 2005
I can't believe it. Lingo has ALREADY been renewed for a 5th series of episodes. The Chuck Woolery hosted game show has boosted ratings over 56% in the 7PM ET slot since the 4th series began. The article that we are getting info from also mentioned that GSN is looking at syndicators for some game shows possibly. Could we be seeing Lingo in syndication? And I'm still riding my high horse to bring back the 2nd highest rated game show in GSN's history: Russian Roulette. Come on, guys. The ratings were there and there have been lots of emails asking for it. Lingo series 5 will be sometime in 2006.
posted by Alex Davis * Permalink

CBS BRINGS ON GAME SHOW MARATHON
Game shows are coming back in full swing in America. Like what the UK did with the celebrity Game Show Marathon, CBS has announced they are going to do the same. Celebrities will be taken down one by one until a single winner is declaired. Each game will come from Fremantle's library of game shows, like The Price is Right, Family Feud, Match Game, and I've Got A Secret. Six celebrities will compete in a new game each week. CBS has said they are looking at this to be a once a year event.
posted by Alex Davis * Permalink

Wheel of Fortune Launches Cash Game
Much like Lingo has (had) on GSN.com, Wheel of Fortune officially announced their new cash game from WorldWinner. This game can be seen at www.wheeloffortune.com or wwww.worldwinner.com. Now, fans and gamers will be able to spin the wheel, solve the puzzle, and win cash: just like a regular Wheel of Fortune player. To celebrate the launch, they are running a two week promotion with a chance of being able to fly to Los Angeles and play the game live on TV. Stephen Kileen, president and CEO of WorldWinner, stated, "For every Wheel of Fortune fan who has ever sat in their living room yelling out the correct puzzles and thinking how much smarter they are than the contestants on TV, this is definitely their chance to prove it." Wheel of Fortune was voted the number one game players wanted to see on WorldWinner.com. This game may also be played on Pogo, Shockwave, Lycos, Yahoo, FaceBook.com, and NetZero.
posted by Alex Davis * Permalink

Deal or No Deal: The Worldwide Phenomenon
Saturday, November 19, 2005
Endemol's Deal or No Deal is quite possibly the world's most braindead game show, but there is not a show that is more exciting. Sexy models holding suitcases containing life changing sums of money. Incredibly tense decisions with people risking hundreds of thousands of dollars on just intuition, guts, and luck. From over 30 countries, Deal or No Deal puts people to extreme circumstances of fortune to win. Let's take a look at 3 of the versions: The Dutch Version, the British version, and an internet exclusive: Buzzer goes indepth with the US version. If you want to see the BRAND NEW INFORMATION, which includes SET INFORMATION, FORMER THE PRICE IS RIGHT MODELS, and more, please read to the US Deal or No Deal logo.


The Dutch Deal or No Deal, entitled "Miljoenen", is hosted by the, in my opinion, incredibly sexy Linda DeMol. 500 different people sit into sections divided into 10 blocks of 50. There is a small trivia competition to determine which group of the audience, the red 250 or the blue 250, will move on. They keep winding down people until we end up with a round of 6 players. Each question lists a series of clues about a person, place, or thing. First person to buzz in and guess correctly is safe and gets to elect to eliminate anyone. However, Linda offers to let anyone quit the game right then, in fear that they are eliminated, by taking one of the colored briefcases. If no one takes it and leaves the game, the person who answered correctly gets to show who he/she wants eliminated. The final remaining player plays for 5,000,000 Euro. There, the game runs the same as in any country. 26 cases containing cash values 1 cent to 5,000,000 euro. They start by eliminating 6 cases, and each round makes them eliminate one less. After the round ends, they receive a "Bank Offer": something to tempt them to quit the game. Bank offers have been seen to get as high as 1.495 million euro. The game ends when all the cases are open or the bank offer is taken. Also, a lottery is held, with a live camera feed going to someone's house to award them whatever the in-studio player wins.




The British version, just titled Deal or No Deal, takes more of a warehousey look to the show. Noel Edmonds hosts the UK version. This version has 22 boxes each held by a player. The person selected to try to win the money is chosen at random. The cash ranges from 1p to £250,000. The gameplay goes the same, except no models. It's all opened by the players. Also, as you may have picked up, there are no suitcases. This version goes even more different and lets people open boxes. After 5, 8, 11, 14, 17, and 20 boxes are opened, the banker makes an offer. In this version, the banker talks in a private phone conversation to the host and discloses what he will give away. Bank offers have been seen to go over £100,000. The £250,000, once it's given away, will be the biggest prize ever offered in daytime British game show history. This show also airs with one of the most intelligent game shows in game show history: Countdown. So you go from the master brain game, Countdown, and one of the dumbest game shows, but easily the most exciting, Deal or No Deal. Quite a mix for our British friends.




Sorry for the small picture, but this is the only known picture for US Deal or No Deal. There were 2 versions. One was on ABC, which basically followed the rules of the Dutch version. The top prize for ABC was $2,500,000, which was one of the biggest top prizes in game show history. A clip of it can be seen here. Go to Multimedia and click the Deal or No Deal box. However, Super Millionaire was announced and Deal or No Deal was on the back of everyone's minds until NBC announced they picked it up. The NBC version has a chain from 1 cent to $1,000,000. The set was described to us as having a center stage for host Howie Mandel and the player, a stair case, the money monitor to the right of the staircase, and the bank on the opposite side of the staircase. 26 cases are opened by different models. There are THREE former The Price is Right models. They are: Lisa Gleave (Suitcase 3), Kristal Marshall (Suitcase 5), and Claudia Jordan (Suitcase 9). Cases are eliminated just like the Dutch version with bank offers thrown in. The case values are dealt randomly also. No one, not even the producers know what is in each case. The bank offer is phoned in to Mr. Mandel as well.


Deal or No Deal has had an incredible run, and you can see each version somewhere. The US version will be on December 19-22nd at 8PM ET-9PM ET on NBC. That leaves one episode unaired, and if I had to guess, it will be at some time. You can view the Dutch version Sundays at around 3:45PM ET at Talpa TV live or watch it in this link. We really can't see the British version, but you can read a live chatcast of it at a terrific British game show website: Bother's Bar. I encourage you to watch this show and support it. There are not many game shows more tense than this. Here are a few more pictures of the UK and British version.




Thanks to: Bother's Bar, Mike Klauss, Talpa TV, Invision, Christopher Bogart, David Howell, NBC, ABC, Channel 4, Joe Raygor, and Travis Penery
posted by Alex Davis * Permalink

Distraction Season 2: January 10, 2006
Let's keep the Distraction news coming. Distraction's 2nd season will debut on January 10th, 2006, which is a Tuesday. Whatever time slot, we don't know, but a guess would be that it's keeping it's 10PM Tuesday time slot for a 2nd season. Be sure to check out this terrific game show on Comedy Central.
posted by Alex Davis * Permalink

GSN Ratings Improve
Friday, November 18, 2005
Hooray for our 200th news article. GSN's ratings rose from the semi-depressing .3 of September to the not nearly as depressing .4 for the month of october. They are also up to 211,000 head count now. As many have said, Millionaire reruns are getting to the ratings, after several years of nonstop abuse, and The Amazing Race may have worn off, partially because of the new edition on CBS. Again, this is just my own personal opinion here, but the network really should try to get syndie Millionaire ASAP. Millionaire is a huge ratings getter for GSN, and getting Meredith Vieira Millionaire, which not all of the country gets, can generate some motivation. You would get a large group of students and workers who can't see the show watching it and it would renew interest. Something has to be done. Lingo and Russian Roulette, anyone?
posted by Alex Davis * Permalink

DEAL OR NO DEAL TO AIR IN DECEMBER



Well this one came out of nowhere. According to a very good source, NBC's Deal or No Deal will debut for *4* nights in a row. December 19 through the 22nd at 8PM ET. This comes much earlier than anyone expected, to be quiet honest. This is Howie Mandel's first major network show in a while and his first network game show.

Now for the opinion stuff, and I would love your opinions. Why is it on for 4 nights in a row? Are they burning this show off? Are they "testing" the waters: seeing what night will work for it and if the ratings will be good? Please drop us a comment or email me at itiparanoid13@gmail.com. But no matter what, this is great news for a great game show. More info will come later if we get it, and be looking for a Deal or No Deal report tomorrow.

EDIT: NBC is listing this as a "special series", so hopefully it'll move on after that. This is the official show logo

EDIT PT. 2- Even more info coming from the NBC press release. Each episode will be an hour long, so if we'll get one or two suitcase games each round, that is yet to be known.
posted by Alex Davis * Permalink

Three Wishes Order Pushed Back
Thursday, November 17, 2005
Only two weeks after being upped by 6 episodes, NBC's Three Wishes, one of the few feel-good TV shows in a while, has been pushed back. Those 6 episodes have been taken away and no word yet on what will replace the Amy Grant-hosted "reality" show. The show aired Friday nights at 8PM. I hate to make guesses already, but...

Deal or No Deal- Friday Nights at 8PM ET on NBC. Again, this is just a guess, but with the way things are going, would you be shocked?
posted by Alex Davis * Permalink

RIP Ralph Edwards
Wednesday, November 16, 2005

Ralph Edwards, host of the popular TV program "This Is Your Life" has passed away at the age of 92. One of the pioneering radio broadcasters, Edwards hosted one of the first commercial shows in TV history, Truth or Consequences. Ralph's program "This Is Your Life" was scheduled to be revived on ABC with Regis Philbin as host. Mr. Edwards passed away on Wednesday of heart failure at 92 years old. We at Buzzer send our thoughts and prayers to his family and friends.
posted by Alex Davis * Permalink

More Tourneys for World Series of Blackjack
Tuesday, November 15, 2005
World Series of Blackjack, as said before, is thankfully coming back in 2006. The Ute Mountain Casino, the largest casino in southwest Colorado, will host 3 prelim tournaments with the top winner of each tournament getting a seat in the finals. The champion of the World Series of Blackjack, which will tape in early 2006 in Las Vegas, will reward over $500,000 to the champion, with a prize pool being $1,000,000.
posted by Alex Davis * Permalink

I've Got A Secret 2005 Info
As we reported, I've Got A Secret is GSN's newest strictly traditional game show pilot. Nothing was known except it was to be an all-gay panel. However, thanks to a contestant show, we finally have some information. Each panelist will get 20 seconds to give rapid-fire questions to a contestant while he tries to hide his secret. Yes, the panel is all gay, but the contestant who gave info stated that "

it would enrich the spirit of the show or the camaraderie of the show

" Each show will fit into a half hour time frame.
posted by Alex Davis * Permalink

Aussie Millionaire: No Cheating!
Monday, November 14, 2005
According to the Herald Sun in Australia, TV's newest Who Wants to be a Millionaire winner, and the 2nd winner in a month and in history of Aussie Millionaire, Martin Flood, has been cleared: no cheating. After reaching $250,000 and the episode ending, the security staff made him remove his jacket and shoes. Also, his wallet was checked for electric devides. Renouned criminologist Paul Wilson viewed the show and made no connection to the coughing and the answers. Martin Flood stated "That hurt. It was a horrible way to come out of the show after working my ass off for years to prepare for it." Congratulations, Martin! Enjoy your million!

posted by Alex Davis * Permalink

The Apprentice: Martha Stewart Gets Canned
This might be something good for those wanting Deal or No Deal soon. According to MediaWeek, Martha Stewart's less than popular edition of the hit reality series "The Apprentice" has been cancelled. The show ranks 76 out of 134 shows and was tied for 64th in the key demographic. What does this mean? Deal or No Deal might come when we first projected, in December, as The Apprentice wraps up in December.
posted by Alex Davis * Permalink

Dutch Deal or No Deal Holds New Worldwide Record
Sunday, November 13, 2005
On today's episode of Deal or No Deal in Holland titled "Miljoenenjact", which has a top prize of 5,000,000 euro. Before we begin, please pardon us for the lack of exact information. We will get exact info when it comes to us, but as of right now, not a ton is known. This was a live feed over the internet and buffering constantly restricted exact data keeping. After surviving a 500 player trivia contest, she was selected to play the briefcase game for all the money. She selected 14 and the game began. Rounds went by, and more and more tiny values flew off the chain. To the surprise of the host, Linda deMol, bank offers were rising about 100,000 euro, and yet she kept playing. With bank offers up to 995,000 euros and the begging of her friends and family to stop, she had the proverbial balls of steel and continued risking it all. The only cases remaining at that point were 1,000; 75,000; 2.5 million; and 5 million euro, with the bank offer up to a staggering 1.495 million Euro. After much time deliberating, she finally decided to stop. Little did she know that her case contained only 1,000 euro! She gained 1.494 million euro by being the riskiest person I've seen in game shows since Maria Lay's $100,000 5 drop zone spin on Russian Roulette and is now the 6th biggest winner of game shows in the world. 1.495 million euro equals a huge $1,752,442.38! If we're wrong saying this, please tell us. This show will be online again on Tuesday. Check back here to see this historic game show moment again.


NOTE: She was the largest winner in live game show history.

Show Link

WATCH THIS EPISODE NOW
posted by Alex Davis * Permalink

Want to "View" British Deal or No Deal?
Saturday, November 12, 2005
OK, it's a very liberal term of viewing, but it still works. There's a great website called Bothers Bar in which, on the left side of the site, they do live chatcasts of Deal or No Deal. They go through every turn of the game, give analysis, and more all live during the show's broadcast in England. On Bothers Bar, you can also see if they are airing the Dutch version of Deal or No Deal live on the web. Check out the main news part to find that link. This is as close to DoND as you're going to get until NBC airs it.
posted by Alex Davis * Permalink

Let's Make a Deal on DVD?
Friday, November 11, 2005
We were shocked too. According to message boards and www.amazon.com, Let's Make A Deal is coming to DVD in some way, shape, or form. Some members of the game show community are saying that this is the DVD release of a VHS called "Deal!", which was released about a decade ago. This movie showed behind the scenes footage. Will this be the same thing? Will it be actual episodes? Find out when it comes out November 29th.

Amazon.com's Listing
posted by Alex Davis * Permalink

Regis is Back on ABC.....
Thursday, November 10, 2005

But with "This Is Your Life". As Buzzer reported around 50,000 years ago, This is Your Life was greenlit by ABC. In about a time period longer than it took us to find out the host for Deal or No Deal, we have discovered that Regis Philbin will take the head of the show. Philbin is well recognized for his co-host position on "Live With Regis and _________" and, of course, Who Wants to be a Millionaire?. No start date has been set as of now.
posted by Alex Davis * Permalink

I've Started, So Now I'll Finish.....

Conquering the British Game Show World. Pat Gibson from Wigan, England has captured the Mastermind title. If you aren't aware of Mastermind in England, it's basically a non-sport version of ESPN's 2 Minute Drill. If you aren't aware of 2 Minute Drill or Mastermind, just save yourself the time and click on this link to read about the rules. Pat Gibson, who is 42 and lives with his wife and two children, conquered one of the most famed trivia shows in England by answering questions in his speciality category of Father Ted, a British sitcom, or Britcom. Now this wouldn't be that memorable if it wasn't for this: he ALSO won $1,000,000 on Who Wants to be a Millionaire?. So let's see, he's conquered Millionaire and Mastermind, what British quiz show could be next? If he went on the non-quiz show Deal or No Deal and won the £250,000, I'm retiring.
posted by Alex Davis * Permalink

Australian Millionaire Cheater?
Tuesday, November 08, 2005

No, this is not about Robert Fulton, but why not put a picture of the first Millionaire winner over there. Next week, Martin Flood will continue his game, going for $500,000 with 50/50 and Phone a Friend remaining. According to sources, he reached $250,000 but experienced "coughing fits" during it. The host had to ask him to calm down on the coughing, as if he had a choice, but still. His coughing and constant changing answers prompted viewers to call in and state their issues. The coughing incident is under review as well partly because of the Charles Ingram situation in England, where Mr. Ingram won £1,000,000 with the help of his wife coughing answers to her husband. Stay tuned to see what happens with him. Click the Add A Comment button to read a spoiler of next week's episode.



Source: Australian Entertainment News



posted by Alex Davis * Permalink

New DVD Game Show: "Who Rules?"

Cannery Games announced today that they are launching the "Hillarious New DVD Party Game Show" called "Who Rules"? Discovery Stores, CompUSA, Fry's Electronics, and Amazon.com will be the first to sell this DVD trivia game show. Patrick Warburton, who is famous for his roles in Seinfeld, The Tick, Less than Perfect, and currently in The Venture Brothers in Adult Swim, will be hosting.

This game contains more than 800 questions and Cannery Games promises that you won't have the same game twice. The chip, cEDGE, allows this. "But what gives the game real staying power is the complete randomization of questions, which means players get a new game every time they play. No matter how many times it's played, 'Who Rules?' promises to be fun and challenging. And it works on virtually all DVD players," said Mitch Powers, VP of Cannery Games. This game was released today, November 8th, at the select places stated.
posted by Alex Davis * Permalink

Distraction Season 2: January 2006
Monday, November 07, 2005
According to Comedy Central OnDemand, we were informed that Distraction, Comedy Central's hit show, season 2 will begin in January of 2006, which is, and please comment to me if I'm wrong, the same time season 1 began. Check our archives for news of what season 2 holds, and stay tuned here for more news as we can give you an EXACT date.
posted by Alex Davis * Permalink

Deal or No Deal Taping News
Sunday, November 06, 2005
This is some news according to several sources who saw a taping of the new NBC game show Deal or No Deal.

I have no clue how many cases there are, but it'll be around 22 or 26 cases. The prize, as we first reported, is from 1 cent to $1,000,000. The player chooses one case and play is like everywhere else in the world; find a case, reveal the total. After so many cases, the "Bank" makes an offer according to how many large cases are left via a phone call, like the UK version and a few others. Play will go on until we have no more cases to choose, the person takes the Deal, or the player decides to take a very early deal that is offered by pressing a red buzzer. Howie Mandel, as reported, is the host and 5 episodes are taped. There are also three former The Price is Right models that will present suitcases. Which ones are they? You'll have to find out when the show airs, whenever that may be.
posted by Alex Davis * Permalink

Jeopardy! DVD to be released this Tuesday
Saturday, November 05, 2005

The first game show to be released on DVD, Jeopardy! will have its first installment released on Tuesday, November 8th in Region 1. Running 120 minutes and featuring two documentaries on the long-running syndicated show, highlights from Tournament of Champions episodes, and Ken Jennings' (in)famous streak-killing episode, the disc is selling at most retailers for anywhere between USD$13 and USD$18. However, Best Buy is selling the disc for the price of USD$9.99. You can also use up to three dollars worth of "Best Buy Bucks" from the current McDonald's Monopoly promotion at a brick and mortar store to drop that down to a bargain-basement USD$6.99.

[thanks to Mike Klauss]
posted by Michael Stanton * Permalink

Top 5 Game Show Panelists.
Wednesday, November 02, 2005
TVSquad.com has a list of their top 5 Game Show Panelists. Number 5 is Gilbert Gottfried, so take this list as you see fit. Actually, it's a good list, although you could see it coming with a ten-foot pole. Check it out.

The Five Greatest Celebrity Game Show Panelists - TVSquad.com
posted by Cory Anotado * Permalink

GSN Airs Two For the Money on Thanksgiving
Tuesday, November 01, 2005
Just a very brief schedule advisory. GSN will be taking Two for the Money out of the vault for one week during Thanksgiving. From the 23rd through the 26th (which means 24th through the 27th), check out Black and White Overnight at 3-4AM ET/PT to see this show not seen on GSN in a few years.
posted by Alex Davis * Permalink

CONTACT INFORMATION
Previous Post
Archives
Links
Powered by